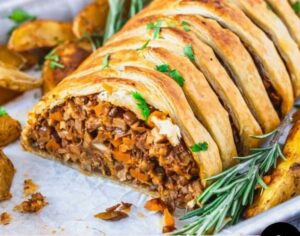 Reserve your seat now!
We are back this Sunday!
Join us for a delightful evening at our community dinner! Mushroom Wellington is a classic and perfect meal to have around Thanksgiving and Christmas. Served with sautéed green beans Almondine (with almonds), and roasted potatoes.
We start at 17:00, and our kitchen closes at 19:00, but you're welcome to chill until 20:00. 
 Put on your eating pants, come as you are, and pay what you can.
See you on Sunday!
One Bowl
Remember to sign up here!
https://onebowl.dk/events/mushwell/
Bookings
This event is fully booked.