Malaysian Delight
Sunday the 2nd of October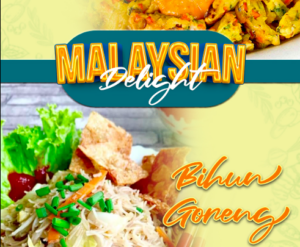 Our new volunteer, Purnima, is coming up with a new and fresh Malaysian dinner.
Here's the menu of the day:
Pasembur Penang – Malaysian-style salad served with coconut fritters, boiled potatoes, fried tofu (tau kwa), cucumber, and lettuce served with peanut sauce.
Bihun Goreng – Fried vermicelli served with spicy sambal (spicy paste)
Everything is plant-based and fresh, so come as you are and pay what you can. Remember to put on your eating pants because it is a dine-in-only event 
We hope to see you all on the 2nd of October from 17:00 – 20:00.
Cheers
One Bowl
Bookings
This event is fully booked.