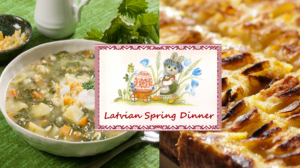 Springtime is here, and what better way to spend it than eating some authentic Latvian food! 
  Bring your family, friends, and partners or come as you are and join this fantastic dinner prepared by Kris this Sunday. Let us celebrate Easter together.
We will spoil you with a Latvian spring classic – Sorrel soup 'Skābeņu Zupa' with potatoes, carrots, onions, pearl barley, tofu, and smokey vegan meat. 
There will be a flat-apple pie, 'ābolu plātsmaize,' with cinnamon for dessert. 
We're open from 17:00 – 20:00, and as always, our food is authentic, fresh, and homemade, with a lot of passion and love. So come through to have some authentic Latvian food! See you Sunday.
We wish you a happy holiday.
Don't forget to sign up here!
Bookings
This event is fully booked.