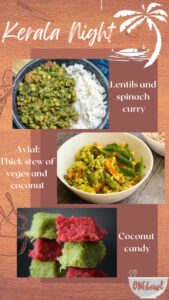 So this will be our last event before the summer holidays, and we want to wish you the best summer with a bang. 😉 We bring to you 'Kerala Night.' Known as God's own country, it is a state situated on the tropical Malabar Coast of southwestern India, famous for its plantations, spices, and lush backwaters, and is home to around 36,5 million people who speak the beautiful language of Malayalam, which happens to be a palindrome.
This region's food is unique, and coconut is a key player in many recipes. We invite you to join us on this culinary journey to Kerala. <3 On this mouth-watering menu, you will have the following:
Lentils and spinach curry served with a bed of rice.
Avial – A thick colorful stew consisting of a mixture of delicious vegetables and coconut, cooked in coconut oil and tempered with curry leaves.
Coconut candy.
A wholesome and comforting meal awaits you this Sunday.
Our food is always authentic, fresh, plant-based, and homemade, with much passion and love. We start at 17:00 and our kitchen closes at 19:00, but you can stay until 20:00. 🙂 Come as you are, pay what you can, and let's make this event really grand and say goodbye before the summer holidays.
See you on Sunday. Cheers.
One Bowl
Don't forget to sign up here!
https://onebowl.dk/events/keralanight/
Bookings
Bookings are closed for this event.